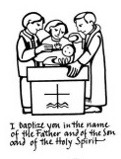 Baptism
Baptism Preparation
Our Lady of the Sacred Heart RC Church
The Presbytery, Mill Lane, Weston-in-Arden, Bulkington,
Bedworth, Warwickshire CV12 9RU
Telephone: 024 7631 2293 Fax: 024 7664 3368
St Francis of Assisi RC Church
The Presbytery, Rye Piece Ringway,
Bedworth, Warwickshire CV12 8JH
Telephone: 024 7631 2293
"You have asked to have your child Baptised. In doing so, you are accepting the responsibility of training him/her in the practice of the Faith. It will be your duty to bring him/her up to keep God's Commandments as Christ taught us, by loving God and our neighbour. You will be the first teacher of your child in the ways of faith. May you be also the best of teachers, bearing witness to the faith by what you say and do." From the Rite of Baptism.
Here is what you need to do now.
If your child is under the age of seven:
1 - Please collect a Baptism Enquiry Form from Father Michael after one of the weekend Masses.
2 - Please telephone Father Michael at Our Lady of the Sacred Heart to make an appointment to see him and hand in your form.
3 - Once you have handed in your form, you will be invited to attend a Baptism Preparation evening.
4 - Having completed the preparation, please contact Father Michael to fix the date of Baptism for your child.